We have spent a lot of time searching for, and finding, lost cats. Most often, they got out after a window, door or balcony was left open. This is why we really emphasise the importance of making your home secure when you're caring for a timid cat, or have just adopted a cat.
Below, we share some real-life lost cat recovery stories.
We hope they help you stay motivated to keep searching for your cat.  Don't give up. It is extremely likely that they are out there somewhere, alive, and close by, and they need you to keep looking for them.
If you would like help finding your missing cat, please contact us.
On this page
Amarisa squeezes through 5cm gap
It's those lapses of concentration that can do you in. Amarisa is a timid cat who had just moved into a new home. True to scaredy cat form, she had stayed in the wardrobe and under the bed for the entire three days she had been there.
Thinking she would stay put, her carer left the front door open for a minute while she got something from the car. Amarisa quickly made a run for it – perhaps she sensed a change in air currents with her whiskers.
Searching begins
We searched her foster carer's property but there were no possible hiding spots. There was a door to the under-house area, but it was too small for a cat to get through.
A team of five people did CSI-type searching of many neighbours' properties over five consecutive nights. We found nothing.
On the fifth night, one of the searchers suggested we look under the carer's house. It seemed impossible for Amarisa to have got through that tiny gap, but we had nothing to lose.
A moving paint splatter
While we were crawling on our stomach under the house, we spotted a splatter of paint on an opposite wall. As we moved closer to the splatter, it moved too. A possum, perhaps?
When we got to the wall, the splatter had disappeared. A peek into a gap too small for our head revealed the most amazing, most beautiful, most wondrous sight – Amarisa, in all her grey glory.
I'm not moving!
Despite having lived with her previous carer for 18 months, she wouldn't move towards her, even for food, and even though she hadn't eaten for eight days. It took five hours to get her out.
Read the Finding Amarisa Facebook page to see how we did it. We set this page up to find more people to help with searching, not to replace it.
The great Topaz escape
To foster carer Jenny, it was a day like any other day. To timid cat Topaz, it was the day she scared herself witless by squeezing through a new gap in her enclosure and venturing into the great outdoors.
Topaz's cat friend Archie called out to Jenny to alert her. Panic! Jenny sought our help immediately.
Under houses make great hiding spots
Jenny thought she saw Topaz run under her weatherboard house – a perfect and very common hiding place for a frightened cat. We blocked all exit points under the house with sheets, towels and whatever else we could find. We then put a audio device that detects motion under the house to see if she was there.
After about an hour, the alarm went off. Topaz was there! We now had to get her back to safety.
Lifting floorboards gives Topaz a way up
We didn't want to risk Topaz fleeing – if she was under the house, at least we knew where she was.  So we lifted up floorboards in one room, put food down the hole and put a light in the room so that Topaz would realise she could come up into the house. No dice. A neighbour's selfie stick and Jenny's mobile phone enabled us to pick up cats' eyes. There was definitely a cat under the house, but Topaz still wouldn't play ball. Another anxious night loomed.
On day 2, she starts calling
Most timid cats will stay silent, but on Day 2, Topaz started calling to Jenny through the loungeroom floor – the opposite end of the house to where we'd lifted floorboards (of course). Jenny did some more unplanned reno's and cut holes in the loungeroom floorboards.
Day 3 and she's safe
On Day 3, Topaz finally came up through the hole.
Even though Topaz had lived with Jenny for a year, when she came up, she was very disoriented and frightened, acting almost as if she'd never been in the house before.
Jenny has now triple-checked the cat enclosure and Topaz, and Archie, have remained safe and happy.
A Mexican standoff and a grumpy dog

Two weeks after foster cat Sheridan bolted out the front door when someone came in, she took our breath away by showing herself to us one late afternoon. She was just two doors from her foster home, even though she'd been missing for two weeks. She had adopted a house that was under construction,
When we started very slowly approaching her, she ran to a very narrow, 'only for cats' gap between the house and the fence. We waited for three hours for her to move from the gap, one of us at either end, hoping food would tempt her. She wouldn't budge.
Why go in a trap when I can jump over it?
So we set two traps – one at either end of the gap – and waited some more. She didn't fall for it. She had grown up as a street cat and had been trapped at her original home, before coming into care. Perhaps she knew that traps meant change.
The last we saw of Sheridan was footage on the wildlife monitoring camera we use to help find missing cats. She deftly jumped over one of the traps.
We continued doorknocking on weekends and searching neighbours' properties at night, but sadly didn't find her.
Eight months later…
A long eight months later, we received a call from a shelter. Sheridan was there. We immediately drove across town to pick her up.
We were curious where Sheridan had been living all this time and how she came to be at a shelter so far from where she got out. So we went back to doorknocking and found the neighbour who had trapped her.
Sheridan had taken up residence in the lady's beautiful Azalea garden, just 500m from her foster home. The lady's dog didn't appreciate this and issued an ultimatum – it's me or the cat.
If her dog was more cat-friendly, the lady would probably have kept her.
Sheridan was in quite good condition. She had no doubt developed some hunting skills when she was living on the streets before coming into care.
Importance of microchipping and identification
Sheridan would not have been reunited with us if she wasn't microchipped.
Microchipping your scaredy cat is really important. We also recommend that they wear a cat-safe collar (one with a breakaway clasp or elastic insert) and ID tag.
Sheridan isn't a super scaredy, and is also 100% lady. She would have been easy to scan at a shelter. Not all scaredy cats are like this, though, so a cat-safe collar and ID tag lets shelter staff know that they do have a person who cares about them.
While microchips, collars and ID tags are important, preventing timid cats from getting out of your home is the best thing of all.
Wildlife camera helps us find Latte
Like Sheridan, Latte became lost from her new-ish home when a door was left open. Over the next two weeks, a team of people doorknocked and searched the neighbourhood for her. Fresh from the Amarisa search, crawling under houses had become second nature, but we didn't find her.
There's no hiding on a wildlife camera
We also set up a wildlife camera at her new home, to see if she was coming for the food we were putting out.
One glorious night, a tortoiseshell cat appeared on the footage. Thanks to Latte's unique markings, we immediately knew it was her. We then went about desensitising her to the trap, by tying the door open and putting food further inside it as she became more confident each night, using the wildlife camera to check on her progress.
Torrential rain on D-day
D-day arrived – she was going all the way into the trap (as were a lot of other cats!). So, we decided to trap her manually using the bottle and string technique, to avoid catching other cats. The weather gods turned on a real performance for us, with thunder, lightning and torrential rain.
Manual trapping protected neighbours' cats
Sitting in a car in the driveway, with most of the windows covered with sheets so she would be less bothered by our presence, we waited for her to appear.
Once she was fully inside the trap, we pulled the rope. Success. She was finally safe. Wet, but safe.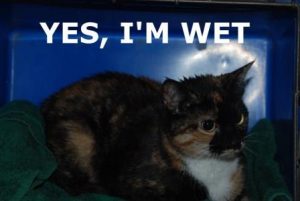 But we searched there!
We think Latte had been hiding under the next door neighbour's house, as we saw her jump their fence to get to the trap. We had searched there as best we could, but there wasn't enough room for us to crawl under it, so we had to look from the outside. Looking for eyeshine with a torch, we saw nothing.
It highlighted that, even if you don't see your cat, they could still be there. Using a wildlife camera, filming with a mobile phone and listening for motion on a motion-detecting alarm can help overcome this problem.
Fleur's eyes shine brightly on a mobile phone
Foster kitty Fleur got out of her foster home when a housemate left a back door open. No sooner was she putting her paws on grass than she was being chased by her carer's dog – talk about making a frightening situation more frightening!
Searching begins
It was about 1am when Fleur's distressed foster carer, Kendra, reached out for help. Kendra did all the right things, acting immediately and searching through the night.
Gotta love a smart phone
During daylight, Kendra made technology work for her and used her mobile phone to film under a deck. Cat's eyes reflect light and give off a distinctive 'eyeshine' when light shines on them. Filming with a phone in dark places is really helpful when you can't physically get into the space.
When she first filmed, she saw nothing. Another try and she could see something. Fleur must have moved between the first and second filming.
"Do you think this could be a cat's eye?", she texted, with the video.
While waiting in a queue at the supermarket, we watched the footage and a big smile spread across our face. Yes, yes, yes, this was most definitely a cat's eye. Fleur was one step closer to being recovered.
How to get her out?
Now that Kendra knew where Fleur was hiding, she had to get her out without giving her a chance to bolt.
It can be helpful for people who the cat knows best to be involved in their recovery – their fear may be slightly less (very slightly!) when they hear a familiar voice, smell a familiar scent or see a familiar sight (although Amarisa didn't see things this way).
Matt and Clare to the rescue
So Fleur's previous carers, Clare and Matt, trekked across town to help. Coincidentally, Clare and Matt helped with Amarisa's recovery, as they lived in Amarisa's neighbourhood.
Matt removed some boards from the steps that connect to the deck and created a large enough opening for Fleur to be recovered. (Luckily, Kendra's landlord is her father).
Fleur has remained safe since then. And her human friends are more careful with doors.
Friendly Noah finds his wild streak
Noah, a friendly and confident foster cat, became lost after getting off a second storey balcony. His carer doorknocked the neighbourhood and searched their properties, after dark.
As he is a confident cat, he was more likely to be out and about exploring, rather than comatose with fear. So she also put up 'big signs' around the area.
Success! Noah was spotted by a neighbour.
He's friendly, he's confident, he knows his carer, so getting him home should be dead easy, right? Wrong. Whenever his carer approached him, he'd run off, even when she had yummy food.
She had to use a humane cat trap to get Noah back to safety.
An unsecured balcony leads to tragedy
If you've never worked with timid cats before, you might be tempted to cuddle them soon after they come to you, to let them know they're loved and safe. But this can be disastrous. And so it was with Ebony and Crystal.
Two young sisters, one black and one white, they had come straight from the streets. They'd never lived with humans before, let alone been touched by one.
A new record for becoming lost?
Very soon after they arrived, their foster carer tried to pick them up from their crate, which led to them panicking and getting out. They had been at their foster home for all of 30 minutes. Their escape route of choice? A balcony.
It had been very loosely netted in by the carer's friend. but there were lots of gaps. The carer's own cats didn't try getting out. But Ebony and Crystal, two panicked cats in a new home, most certainly did.
A neighbour's cat comes to the rescue
A team of volunteers, from near and far, started doorknocking and searching neighbours' properties. Although there were no signs of Ebony and Crystal on neighbours' properties, an exploring cat who lived next to the carer did bring good luck.
Cavorting In an alley, he was soon joined by another cat. A small, young black cat. Ebony!!  Indeed, the Missing Animal Response Network (formerly Missing Pet Partnership) recommends trying a 'magnet cat'. We didn't plan that to be his role, but were delighted when he offered.
Naturally, being a timid and displaced cat, Ebony wouldn't come to anyone. And as quickly as she appeared, she disappeared.
We find her new home – a timber yard
Another night of searching and we spotted the distinctive shine from a cat's eyes with our torch, in a timber yard on the other side of the alley. The next day, we spoke to the staff. They had, indeed, seen a small black cat when they first arrived at work, in the dark, but no white cat.
Wildlife camera and cat trap are put to work again
The staff were lovely and were happy for us to put a trap and wildlife camera on the site.
The wildlife camera worked its magic – yes, Ebony was living there. We fixed the trap door open then desensitised her to the trap – after all, she'd only recently been trapped at her previous home – and monitored her progress on the wildlife camera. Once she was going all the way in, we caught her. But where was Crystal?
Ebony and Crystal had a close bond. We were puzzled why they wouldn't be together.
A white cat on the road
More doorknocking revealed that a neighbour had seen a white cat on the busy road outside her carer's home the fateful night they got out. Tragically, the cat was deceased.
We called vets, shelters and the council to see if anyone had picked up a deceased white cat, without luck. However, we received other information indicating that this was very likely Crystal.
Searching and recovery takes time
Finding lost cats often needs a large investment of time. The search for Ebony and Crystal, and recovery of Ebony only, took a team of six people about 120 hours – three full time working weeks.
We were incredibly sad that Crystal hadn't survived after they fled from the balcony. Ebony and Crystal were teenagers just beginning their lives. Once they learnt to trust people, which wouldn't have taken long due to their youth, they had a bright life ahead of them. RIP Crystal.
Balcony claims another life
An unsecured balcony also claimed the life of newly-adopted Gizmo, a gorgeous but timid ginger kitten who had been lovingly raised by his foster carer from a young age. A week after he was adopted by a young couple in an inner city suburb, he was given unsupervised access to their balcony. He disappeared.
We searched and used the wildlife camera, but didn't find him.
The rescue group that had originally saved his life soon received a call from an emergency hospital. An injured Gizmo had been brought in by a good samaritan. He had been hit by a car. He didn't survive.
Once again, a beautiful kitten with his whole life to look forward to was taken from the earth far too soon. RIP Gizmo.
Finding cats is hard work; keeping them safe is easier
Each of these cats had been inside-only foster cats. They became lost when doors were left open, or balconies unsecured.
Windows are the other common escape point for timid cats.
If you're caring for a timid cat, you will save yourself and other people a lot of time, stress and expense by keeping all escape points secured.
Dedication
This page is dedicated to Akasha, a very frightened cat who got out of her foster home in December 2015. Illegal fireworks are thought to have frightened her so much that she pushed the flywire out of the frame of an open window, then jumped from the first floor.
She hasn't been found, despite searching for months.